The Gothenburg Police Department employs six full time police officers. The Patrol officers work a rotating shift consisting of four ten hour shifts and three days off. Each officer is cross trained in various patrol and investigative functions. Gothenburg Police Officers have a combined total of over 78 years experience.
The department has two marked and fully equipped patrol vehicles. Each patrol vehicle has a mobile data terminal in which the officers receive dispatch calls, write reports, issue citations/warnings electronically, run routine Nation wide wants and warrant checks, as well as driver and vehicle information. The vehicles are also equipped with Automatic Vehicle Locators, which provide the dispatcher with real time data on the location of the officers at all times.
The Administrative and Records hours are Monday through Friday 8:00 AM to 4:00 PM. Calls for service reports, accident reports, handgun purchase certificates, pet licenses may be purchased during the business hours. Additionally accident reports may be purchased 7 days a week and 24 hours per day online at NDOT Storefront > Accident Reports (nebraska.gov)
9-1-1 Emergency Phone Calls
9-1-1 and Emergency Communications for the City of Gothenburg and the surrounding 537 phone district are provided by the North Platte 9-1-1 Center. The North Platte 9-1-1 Communications Center is the answering point for all emergency and non-emergency calls for Law Enforcement and Fire and Rescue Units dispatched through the 9-1-1 Communications Center. Enhanced 9-1-1 is available to all residents of Gothenburg and Dawson County .
Remember! An emergency represents an immediate threat to life and property. If your call is determined to be a non-emergency call, you will be directed to call a non-emergency number.
When police, fire, and medical response is needed.  When you see smoke or fire.  When life and/or property are in danger.  When a crime is being committed.  When an ambulance is necessary.
Children should be taught to call 9-1-1 for police, fire, and medical help. North Platte 9-1-1 center is also equipped to handle speech and hearing impaired persons. A communications device for the deaf (TDD) is available and is connected to the 9-1-1 center. Simply dial 9-1-1.
Just remember to push the send button after you dial 9-1-1. Your location is important when using a cellular phone. When traveling, have in mind your location or familiar landmarks. Be ready to provide the 9-1-1 center personnel with your information. When calling from a cellular phone it is recommended that you stop your vehicle on the side of the road before calling.
When calling from a pay phone, it is not necessary to deposit coins before calling. 9-1-1 is a free call.
If you have a non-emergency and are in need of help, clerk/dispatchers are available twenty-four hours a day, seven days a week and will accept all your calls and will assure your needs are met. The clerk/dispatcher is in constant radio contact with Gothenburg police, Gothenburg Fire Department, as well as the Dawson County Communication Center , and will direct the correct personnel to meet your needs.
Computer-Aided Dispatching (CAD)
Our new state of the art Communications Center was completed in October of 1998. Our communications center has a minimum of two (2) clerk dispatchers on duty at all times and three clerk/dispatchers during peak hours. There are four work stations within the center and all four stations may be used during emergency situations. A computer software program (Motorola) is used to track and record all police, fire, and rescue personnel. The computer aided dispatching software provides the clerk/dispatcher with the ability to locate and dispatch emergency personnel to meet your needs in the least amount of time. The Motorola program provides addressing, and can be used to flag special information such as hazards, previous calls where officer may need to use caution, individuals needing special care, and monitors length of time emergency personnel are out at a particular location.
Emergency Medical Dispatching
All clerk/dispatchers assigned to the 911 center are certified emergency medical dispatching technicians. During an emergency, clerk/dispatchers will keep you on the phone and provide critical information and guidance in providing emergency care for the injured while emergency personnel are on their way. Stay calm and follow their directions.
National Weather Alert System
North Platte Police 9-1-1 provides and maintains national and statewide links to the National Weather Service. Immediate notification of severe weather conditions is broadcast to the public in several different ways. Strategically located throughout the city of Gothenburg are sirens that are activated in emergencies such as tornados. The 911 center also has the ability to notify residents utilizing the Community Emergency Notification System.
Addressing Your Home or Business
Emergency personnel cannot locate your home and business if they are not clearly marked. Make sure your address is clearly visible from the street and that you are using the address issued by the city or county. When you dial 9-1-1, your address appears on a computer screen. If that address differs from what is posted on your house or business it may cause a delay locating the emergency.
Smart911 Saves Time And Saves Lives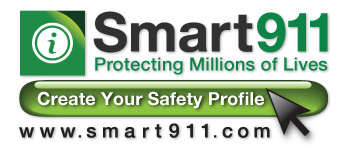 Your entire household. One account.
With Smart911, you can provide 9-1-1 call takers and first responders critical information you want them to know in any kind of emergency.
When you call 9-1-1, your Smart911 Safety Profile displays on the 9-1-1 screen and the 9-1-1 call takers can view your addresses, medical information, home information, description of pets and vehicles, and emergency contacts. You can provide as much or as little information as you like.
Smart911 is a national service meaning your Smart911 Safety Profile travels with you and is visible to any participating 9-1-1 center nationwide.
Safety Profiles can include:
People living in your household
Phone numbers associated with your family
Pets, service animals, and livestock
Medical conditions and allergies
Medications and medical equipment
Property details, layout, and utility information
Vehicle descriptions
Emergency contacts
See Something, Send Something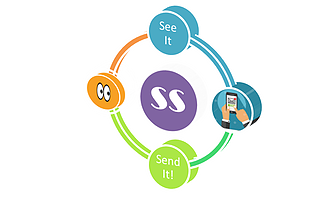 "See Something, Send Something" is a application and program in conjunction with United State Department of Homeland Security – "See Something, Say Something" Program. This app allows the Gothenburg Police Department to inform citizens of a potential hazard in ongoing situations or request information from the public.
Individuals who see something suspicious or have information may activate the app and send the tip to the Police Department in the form of a photo, video or text. The tip may be sent anonymously but the reporter will still be notified of the progress of the tip. The app allows Police Officers and Citizens to chat by text for the exchange of further information. Individuals can use the "See Something, Send Something" app on their phones or by clicking the above icon and completing the form attached.
The "See Something, Send Something" app is available at no cost at either the Apple Store or the Google Play Store.